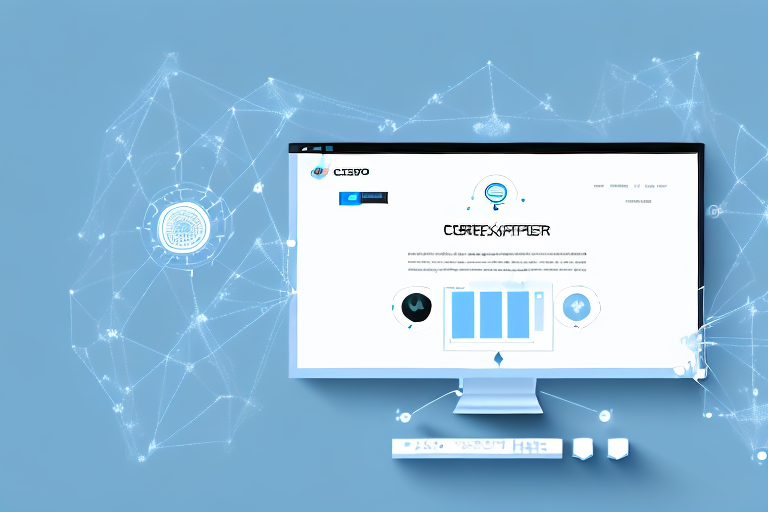 9 mins read
Navigating and Managing Cisco Unified Communications Manager Express and Unity Express Web Interface
Cisco Unified Communications Manager Express (CUCME) and Unity Express (CUE) are two powerful and widely used communication tools in the industry. They provide enterprises with many features needed for effective communication through voice, video and other media. However, managing and navigating these tools can be difficult for novice users or those who have not used them before. This article aims to provide a comprehensive guide on navigating and managing CUCME and CUE web interfaces.
Navigating Cisco Unified Communications Manager Web Interface
When navigating CUCME web interface, there are several important features to note. These include Recently Viewed Objects, Search, Navigation Tree, and Menu Tabs. The Recently Viewed Objects feature helps users quickly locate the most recently accessed tools for easier access. By selecting the Search button, users can search for their intended tool based on criteria such as type, name, and status. The Navigation Tree contains a list of objects that can be managed, making it easy to browse through different tools. Finally, Menu Tabs provide users with access to different tool functions.
A Comprehensive Guide to CUCM Web Interface Features
The CUCME web interface provides a range of features designed to improve user experience and management. For instance, it comes with features such as directory, speed dials, and call routing. It also enables users to set up voicemail and configure call transfer features easily. Additionally, it supports remote communication features, such as remote office connectivity.
Another important feature of the CUCME web interface is the ability to monitor call activity. Users can view call history, including missed calls, received calls, and dialed calls. They can also monitor active calls and view call statistics, such as call duration and call quality. This feature is particularly useful for call center managers who need to monitor call activity and ensure that customer service standards are being met.
Furthermore, the CUCME web interface allows users to customize their settings and preferences. Users can set up personalized speed dials, configure call forwarding rules, and adjust their voicemail settings. They can also customize their user interface by changing the color scheme and layout. This level of customization ensures that users can work efficiently and effectively within the CUCME web interface.
Accessing CUCM Express: Web Interface vs CLI
Accessing CUCM Express can be done using either a web interface or Command Line Interface (CLI), which both have unique features. However, it is important to note the strengths and weaknesses of each approach when deciding which to use.
Pros and Cons of Using CUCM Express Web Interface and CLI
CUCME web interface provides users with an intuitive user interface, making it easier to configure and manage settings, add and delete users, and control call routing. It also offers users the ability to access additional features and functions, such as speed dials and voicemail. However, the web interface can be slow when compared to the CLI. The CLI, on the other hand, is faster and more efficient in its use. Experienced network administrators prefer to use CLI since it can be used for scripting purposes and is highly customizable. However, it can be daunting to use for the less experienced and requires significant expertise.
It is important to note that the web interface and CLI can be used together to achieve the best results. For instance, the web interface can be used for basic configuration and management tasks, while the CLI can be used for more complex tasks that require scripting and customization. This approach can help to save time and increase efficiency, especially for experienced network administrators who are familiar with both approaches.
Simplifying Voicemail Management with Cisco Unity Express Web Interface
Voicemail is an important aspect of communication in an enterprise environment, and CUE offers a range of features to manage voicemail effectively. The CUE web interface provides users with a range of features for voicemail setup, recording greetings, playback log, and message notification. Using the CUE web interface to manage voicemail in an enterprise helps to minimize the chances of critical voicemail messages getting missed, and ensures proper communication between teams and individuals.
How to Use Cisco Unity Express Web Interface for Voicemail Configuration
To configure voicemail using the CUE web interface, users can navigate to Admin > Voice Mail > Mailbox > Add. This will launch a configuration wizard to help users set up voicemail. Next, users can configure the voicemail greeting recording by navigating to the Voice Mail > Callers Menu tree. Finally, users can manage voicemail messages by navigating to Message > Play Message.
In addition to the features mentioned above, the CUE web interface also allows users to set up message notification alerts. This feature ensures that users are notified via email or SMS when they receive a new voicemail message. This is particularly useful for users who are frequently on the move or away from their desk, as they can stay informed about important voicemail messages in real-time.
Another useful feature of the CUE web interface is the ability to set up voicemail distribution lists. This feature allows users to create groups of individuals who can receive voicemail messages simultaneously. This is particularly useful for teams who need to stay informed about important voicemail messages, as it ensures that everyone in the group receives the message at the same time.
Mastering Cisco Unity Express CLI for Advanced Configuration
Experienced network administrators who prefer a more flexible and powerful approach can use CLI for advanced configuration. The CUE CLI enables users to access all of the available features and configurations of CUE. This includes configuration of call routing, voicemail setup, and user management.
Tips and Tricks for Using Cisco Unity Express CLI
The CUE CLI can be accessed by using a console or secure shell connection. The commands follow the same basic grammar and syntax as other Cisco command line interfaces. Users can navigate through available commands using standard keyboard commands. When using the CLI, users should always use the "show" command before making any configuration changes. This approach ensures users have a clear understanding of the current system status and avoid any accidental misconfiguration.
Another important tip for using the CUE CLI is to always save configuration changes after making them. This can be done using the "write memory" command. This ensures that any changes made to the system are saved and will persist even after a reboot.
It is also important to note that the CUE CLI can be used in conjunction with the CUE GUI. While the GUI provides a more user-friendly interface, the CLI offers more advanced configuration options. Users can switch between the two interfaces as needed, depending on their specific needs and preferences.
Choosing the Right Interface: A Comparison of CUCM and Unity Express Interfaces
When choosing an interface between CUCM and CUE, it is important to consider the strengths and weaknesses of each. The web interface of CUCM is best suited for novice users who need an easy to use visual guide. The CLI of CUE is ideal for experienced network administrators who require more customization and flexibility.
Which Interface is Best Suited for Your Needs? A Side-by-Side Comparison
The table below provides a side-by-side comparison of CUCM and CUE interfaces, highlighting the key strengths and weaknesses of each.
| Interface | Strengths | Weaknesses ||————|———————————————|——————————————-|| CUCM Web | Intuitive user interface, easy navigation | Can be slow to use || CUE Web | Great for voicemail management & monitoring | May not be as customizable as the CLI || CUE CLI | Highly customizable, fast, powerful | Can be challenging for novice administrators |
In conclusion, effective navigation and management of CUCME and CUE is crucial to ensuring proper communication within an enterprise. By understanding and utilizing the features of both web interface and CLI, users can streamline the management of these tools and enhance their communication.
Another important factor to consider when choosing between CUCM and CUE interfaces is the level of security required. The CLI of CUE provides more advanced security features, such as the ability to configure access control lists and firewall rules, making it a better choice for organizations with strict security requirements. On the other hand, the web interface of CUCM may be more suitable for organizations that prioritize ease of use over advanced security features.
It is also worth noting that the CUCM web interface is constantly evolving, with new features and improvements being added regularly. This means that users can expect a more user-friendly and efficient experience with each update. However, the CLI of CUE has remained relatively unchanged over the years, making it a more stable and reliable option for experienced administrators who prefer consistency over frequent updates.